The handling of incidents and emergencies proposes a challenge to any organiser of outdoor events with large crowd gatherings.
To further strengthen the management of such events, MONICA provides a cloud-based IoT platform supporting a series of applications that can be used to monitor, record and analyse the environment and consequently predict or identify situations which need attention. Subsequently, the handling of incidents is supported by applications that help ensure efficient communication and a timely response.
Read more about collection, processing and storing of data in MONICA
During the event, the security personnel can monitor the situation using a web-based interface – the MONICA COP – which provides an operational picture of the environment in real-time, and which displays notifications in case of any unusual activities. Furthermore, mobile apps for staff and visitors are also used for display and communication purposes.
Application areas and features
The MONICA services include crowd and capacity monitoring, detection of security, health and safety incidents as well as location of and communication between staff, visitors and control centre.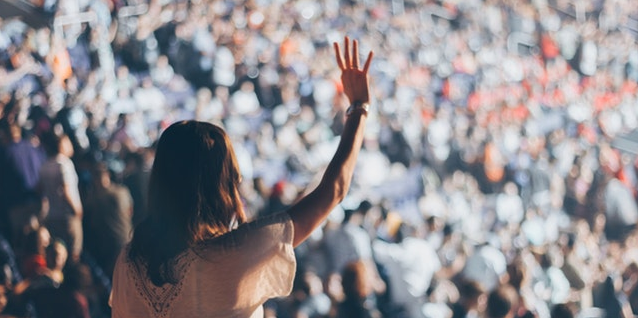 Crowd and capacity monitoring
One series of applications supports crowd and capacity monitoring and is used to predict and handle emerging incidents. The applications are primarily based on data from CCTV cameras and crowd wristbands.
Features:
Crowd count: counting people to know the numbers entering a specific area

Used to identify risk of overcrowding (CCTV)

Crowd density: estimating crowd size and density shown as a heat map

Used to locate high density areas (CCTV and crowd wristband)

Crowd flow: detecting anomalies such as fights or high-risk queues

Used for intervention or redirection purposes (CCTV)

Redirection: redirect visitors to safer areas using large screens or apps.
Detection, reporting and handling of security, health and safety incidents
Other applications support not only the detection of incidents but also the reporting and handling of them in order to provide a timely response. Devices applied cover smartglasses, staff wristbands, activity wearables, CCTV cameras, mobile phones and environmental sensors.
Features:
Notify staff/guards about incident location (smartglasses, staff wristbands)
Report back to control room (smartglasses, staff wristbands)
Detect person falling (CCTV, activity recognition system)
Report incident (mobile phone app)
Monitor wind speed (environmental sensors) to detect high risk for tall amusement rides.
Location of people
To know the exact position of staff members at all times is a high priority when incidents occur that need assessment or assistance. Quickly finding a child or a friend is also relevant at some events. For the location of people or objects, CCTV cameras, trackers, staff and crowd wristbands and mobile phones are used.
Features:
High-precision location (staff wristbands, trackers, CCTV)
Approximate location of person (crowd wristband, mobile phone).