MONICA is joining the IoT Week in Aarhus, Denmark from 17th-20th June with several activities that show you how IoT technologies can benefit our society and life.
As part of the thematic track Emerging Technologies, MONICA demonstrates its innovative IoT technology solutions for crowd safety & security and sound management & control at large-scale outdoor events. These solutions are also relevant for and applicable to other Smart City settings that deal with similar challenges.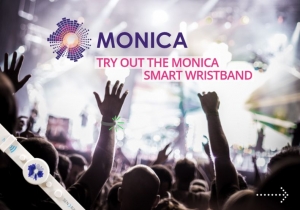 Try our smart wristband
To get a hands-on IoT experience, we invite participants to try out our crowd wristband. In the project, the wristbands are mainly used for crowd monitoring at the events, however, they can also be designed for more interactive features. Thus, at the IoT Week, participants can exchange profile information by bumping wristbands, vote at sessions and be notified by the wristband's LED lights at keynote sessions and breaks.
Visit us at stand 14 in the Foyer
The MONICA stand is found in the Platinum area which is shared with the other Large Scale Pilots. Here, visitors can talk with our technical experts and pilot representatives and see examples of MONICA solutions such as the MONICA COP and a crowd heat map based on wristbands used at IoT Week.
Session on IoT for event management
We also invite participants and you to join our session on Wednesday 19th June at 4PM: MONICA Solutions for Event Organisers: The use of IoT to manage Sound and Security at Open-Air, Cultural and Sporting Events. Presentations deal with general results from the project, the use of wearables at a large scale, IoT data for situational awareness and adaptive sound cancellation for outdoor concerts. The session will be webcast and made available on-demand.