Calling all developers – entrepreneurs, startups, students
The third hackathon sponsored by the MONICA project will take place in Torino on 9th to 11th November 2018 and will be hosted and facilitated by the City of Torino.
Read the rules of the MONICA 'Urban Spaces' Hackathon HERE.
Motivate change in crowd behaviour
The challenge of the hackathon is to design an application, utility or service which engages the user of public urban spaces in a way that changes his or her behaviour.
Particular focus will be on the nightlife phenomenon, Movida where large crowds gather at night in the San Salvario district to the delight of the partying people and businesses in the area, and less so to neighbours and the authorities. So, the aim is to find a good balance between amusement, safety and quality of public spaces.
The application
You will be challenged to build an innovative solution which could include:
– Information about noise level, motivating the individual to lower the volume of conversation
– Notifications to move to less crowded locations due to security reasons
– Reward system for behavioural change e.g. discounts and special offers
– Nudging and behavioural design
To build the application, utility or service, you will have access to data and real-time streams provided by the MONICA open data platform.
Prize money, free access to Growth Programme and real-world testbed
Collaborate and compete for recognition and a prize by participating as a team of 2-5 people. The winning team will receive €5000, free access to a Business Growth Programme and if appropriate an opportunity for a working prototype to be integrated and tested in a MONICA testbed.
Interested?
Get more details in the presentation below. We look forward to receiving your solution.
The Movida
In Torino, the historic district of San Salvario is an area between the Porta Nuova railway station, the park of Valentino, Vittorio Emanuele II boulevard and Marconi boulevard. Characterised by a grid plan typical of the old neighbourhoods of Torino, it is crossed by two main roads, hosts a big open market and offers various commercial activities.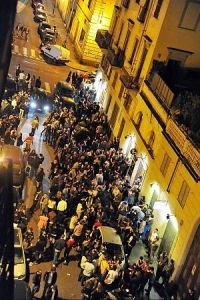 Since the 1990s, the nightlife has rapidly become protagonist of the city district thanks to a lot of pubs, restaurants, liquor stores and multi-ethnic shops with a lively event programme. Pubs, low-cost bars, restaurants, discotheques, wine cellars and boutiques stay open until late and have reshaped the map of entertainment, known as Movida.
However, the gathering of crowds creates challenges. Especially in the nightlife centre, represented by Largo Saluzzo and Via Baretti, crowds gradually occupy the public spaces, causing huge side effects such as noise, traffic blockages, irregular parking and obstruction of driveways.